Use of the TheraBionic P1
The TheraBionic P1 is indicated for the systemic treatment of advanced hepatocellular carcinoma with or without metastases, diagnosed by imaging or biopsy, in patients age 18 years or older with an ECOG (Eastern Cooperative Oncology Group) performance of 0 to 2 who have exhausted all curative treatment options:
whose disease has progressed while receiving first line treatment with sorafenib*, and second line treatment with regorafenib and/or immunotherapy; or,
who cannot tolerate sorafenib, regorafenib or immunotherapy* because of intolerable side effects; and,
with at least one liver lesion measurable by RECIST and permanently impaired liver function defined as: MELD score up to 29, BCLC Stage B and C, or Child-Pugh Class A or B.
or lenvatinib (On  June 28, 2018, the European Medicines Agency (EMA)  and on August 16, 2018, the Food and Drug Administration approved lenvatinib (Lenvima®, Eisai Inc.) for first-line treatment of patients with unresectable hepatocellular carcinoma (HCC).
The TheraBionic P1 emits low levels of radiofrequency electromagnetic fields, which block the growth of tumor cells and do not affect the growth of normal cells. Even with clinical experience limited to 51 patients, there is preliminary evidence that TheraBionic P1 is a low risk device, which may increase progression-free survival and overall survival when used for three 60-minute treatments daily.
RECIST is an abbreviation for Response Evaluation Criteria In Solid Tumors, which refers to a set of published rules used to assess tumor burden in order to provide an objective assessment of response to therapy. They were initially introduced in 2000(Therasse, Arbuck et al. 2000) and have undergone subsequent revision in 2009 (RECIST 1.1).(Eisenhauer, Therasse et al. 2009) Additionally, modified RECIST criteria (mRECIST) have been developed for the assessment of response to therapy in HCC.(Lencioni and Llovet 2010)
Device carrying case
TheraBionic P1 Therapeutic Device
TheraBionic P1 Docking Station for battery recharging and activation card insertion
Coaxial cable (1.2 m) with patient spoon
Power supply for Docking Station
Activation Card
Instruction for use (in upper part of device carrying case)
Download our complete manual here.
The user manual does not contain information on clinical recommendations and clinical decisions. Instructions on the therapeutic use of the therapeutic device are the sole responsibility of the authorized medical staff who is prescribing the treatment.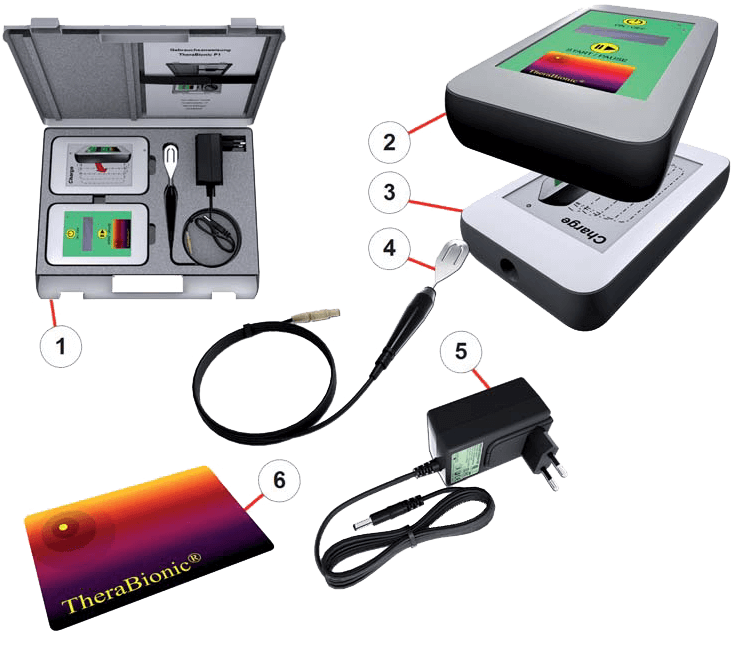 How to use the TheraBionic P1
The TheraBionic P1 is a therapeutic device for the home treatment of cancer patients according to indications determined by the treating physician. (s. 8)
The TheraBionic P1 is used daily for 3 one-hour sessions. For further information, please read the instructions for use.
Product request TheraBionic P1
Please send me an offer for the TheraBionic P1.